Technology plays a critical role in communicating with customers as well as employees. A team's productivity has a major effect on a company's success. When it comes to implementing a business solution to improve productivity, Microsoft is the trusted name and its business solutions are used by more than 1 Billion people in the world.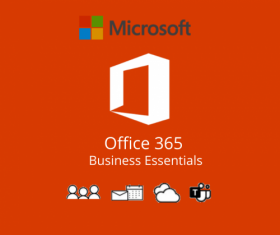 Microsoft 365 has 3 types of business plans to suit your business- Business Essential, Business Premium and Microsoft 365 Business. Out of the three, Business Essentials is widely popular among small companies of size 1 to 100+.
The top 5 reasons to have Microsoft 365 Business Essentials are
1. Work from Anywhere
Work from anywhere and from any device. Work on your own or share Microsoft Word, presentation and spreadsheet documents with your team. You can work with your teammates on a project together on the cloud. You can join meetings with the Microsoft team using any device and get the advantage of Q&A, polls, upload photos and streaming videos.
2. Tools for easy collaboration
Microsoft teams allow you to host conferences and chat with your team and as well as outside the company. Yammer is a corporate social network which lets you connect with different organisations and organise projects with them. With Skype for Business, you can benefit message broadcasting and video conferencing for up to 250 people. With Planner, you can create new plans and organise tasks, track progress of the tasks and collect the report. Team Sites comes with 1 TB storage as a collaborate space for your team.
3. Affordability
Microsoft 365 Business Essentials starts with €4.20/month for 1 account with a benefit to using it on 5 phones or tablets. You can upgrade to many accounts as per your company's requirement. For this affordable price you get 50 GB mailbox, 1 TB secure cloud storage in OneDrive, video conferencing for 250 people, web applications such as Outlook, Word, Excel, PowerPoint and OneNote. Team collaboration with Microsoft teams and Microsoft 365 groups.
4. Security
Microsoft 365 doesn't allow you to send sensitive information outside the company's domain. An attempt to do that can block the company network and also be tracked by the company. This is a great way to secure the company's information. Data is secured and when a situation of data loss occurs then a backup can be retrieved. However, Microsoft has time constraint when it comes to retrieving unsaved or unintentionally deleted data. But to address this issue, having a third party secure AI-based backup like Acronis data backup will add double protection to data which means your data is automatically backed up and even unintentional deletion of data can be retrieved at any time and from anywhere. It also protects your data against ransomware attacks and hence providing a secure environment for data storage.
5. Migration is Easy
Migrating from the existing company's mailbox and the calendar is easy and doesn't take much of your time. It can be done either by you or one of our technical support team can complete this task for you.
There are many web apps and add-ins available for the Microsoft software which helps to upgrade and customise the platform depending on your team's requirements.
With Microsoft 365 Business Essential and Acronis Data Backup you not only get the above benefits but the ease of managing your business communication, increased security, data backup and productivity to take your business to the next level. There is also the added advantage when buying this product from us, we include 24/7 technical support.
If you need more information regarding this, contact us at (061) 503 060 or write to us here