All website owners and domain enthusiasts are invited! We have some exciting news that will make renewing your domain names even more exciting. This July 2023, every domain renewed within the given month will be automatically entered into a draw for a fantastic €500 prize. Yes, you read that correctly! It's time to take advantage of this opportunity and potentially win a cash prize simply by keeping your domains active. Let's dive deeper into the specifics of this exciting contest.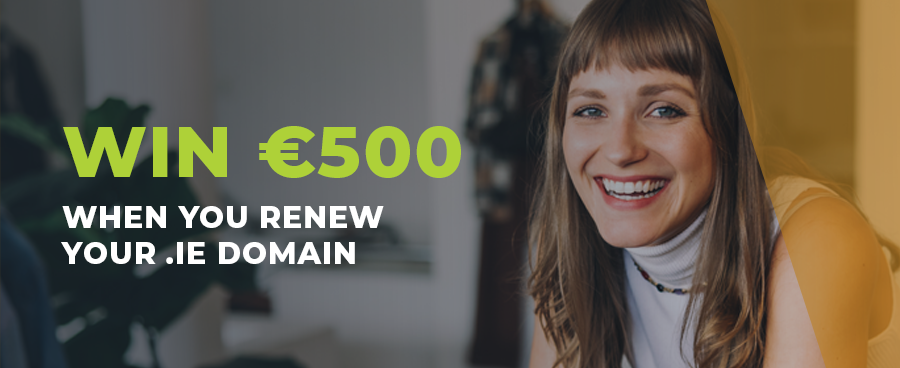 How to Participate?
Entering the renewal contest is extremely simple. All you have to do is renew your domain in July 2023 and enter into the draw contest. Mark your calendars and set a reminder to renew your domain on time to increase your chances of winning the €500 prize.
What are the Terms and Conditions?
By participating in the contest, you acknowledge and accept these terms. Please review the following information carefully before entering the draw.
1. Eligibility:
The Prize Draw is open to corporate entities or individuals over the age of 18 who have registered a specific name in the.ie domain in accordance with the Registrant Terms and Conditions with .IE Registry. You are not permitted to enter the Prize Draw if you are not the domain holder or if you do not accept these Terms and Conditions.
2. Promoter:
The Prize Draw is sponsored by.IE, which is located at 2 Harbour Square, Dun Laoghaire, Co. Dublin, A96 D6R0, Ireland.
3. Ineligibility:
Employees, directors, or agents of.IE (including Registrars), as well as their families or other individuals associated with.IE, are ineligible to enter or win the Prize Draw. "Family" refers to spouses, partners, children, stepchildren, grandchildren, siblings, stepsiblings, parents, or stepparents.
4. Entry Acceptance:
You fully and unconditionally accept these Terms and Conditions by entering the Prize Draw. Furthermore, this contest is governed by the IE Registrant Terms and Conditions and the Rules (as defined in the Registrant Terms and Conditions).
5. Valid Entry:
Any domain that is renewed during the Prize Draw period counts as a valid entry. The domain holder must have paid the renewal fee to the Registrar, VMotion in this case, during the Prize Draw period to be considered valid.
6. Entry Limitation:
There is a limit of one entry per domain holder, not per domain name.
7. Prize Draw Period:
For the duration of the contest, the Prize Draw will close at midnight on the last day of each month.
8. Late or Incomplete Entries:
.IE registry and VMotion accepts no responsibility for entries that are late or incomplete, or for entries that are lost due to technical errors
9. Draw Process:
All valid entries will be entered into a draw overseen by Grant Thornton, an independent observer. Each month, one entry will be chosen at random. The chances of winning are determined by the number of entries received and cannot be predicted in advance.
10. Winner Notification and Publication:
The winners will be notified via email by the end of the month following the draw. After they have been contacted and authenticated, the details of the Prize Draw winners may be published on the.IE website (www.weare.ie). If a winner cannot be contacted or does not claim their prize within one week of being notified,.IE registry reserves the right to withdraw the prize and choose another winner.
11. Prize Claim:
To claim a prize, the winner must sign any documentation requested by.IE relating to the Prize Draw prize, these Terms and Conditions, and any liability release in favour of.IE and other designated entities.
12. Prize Payment:
Prizes will be awarded to winners via bank transfer, cheque, bank draught, gift card, or another method reasonably determined by.IE. Before claiming the prize, the winner may be required to provide proof of identity and registration information. Failure to provide adequate proof may result in prize forfeiture, with no substitute offered.
13. Prize Alternatives:
The prizes are as stated, and there will be no non-cash alternatives.IE registry reserves the right to substitute an equal-value prize.
14. Liability Exclusion:
The.IE registry and its agents are not liable for any loss, expense, or liability incurred as a result of a domain holder's participation in the Prize Draw.
If you have any further questions or inquiries regarding the Prize Draw or the renewal process, we encourage you to reach out to VMotion, our dedicated customer support team. They are here to assist you every step of the way. Alternatively, you can call our helpline at 061740740 for immediate assistance.
Don't hesitate to get in touch! We're here to ensure you have the information and support you need to participate in the Prize Draw successfully.